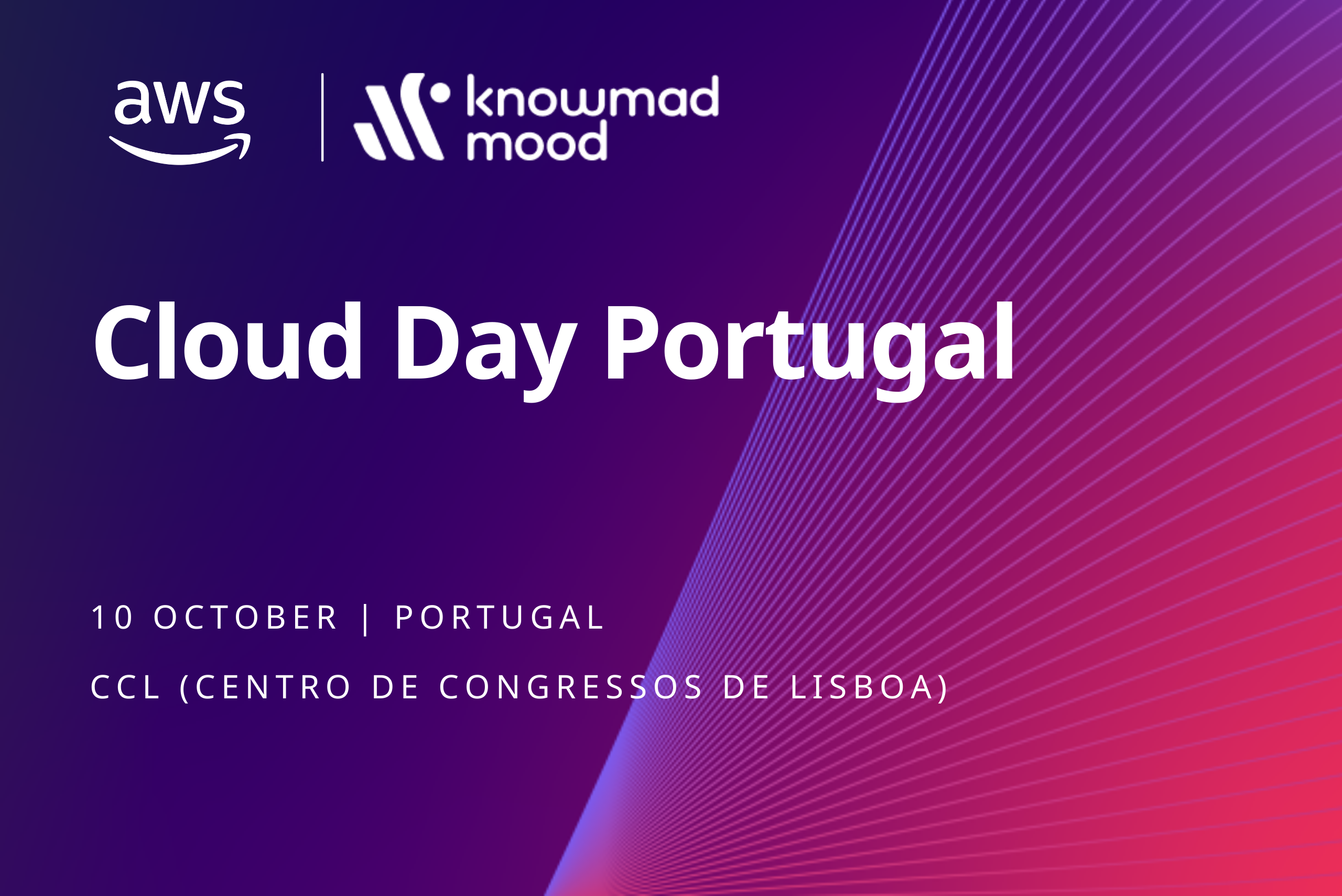 Cloud Experience 2023 Portugal: Imersão tecnológica da AWS
No dia 10 de Outubro de 2023, Portugal vai tornar-se o epicentro da inovação tecnológica com o tão aguardado evento Cloud Experience 2023, organizado pela Amazon Web Services (AWS).
Este evento anual, que terá lugar no Centro de Congressos de Lisboa, promete ser uma experiência inigualável para os profissionais de tecnologia interessados nas últimas tendências cloud e web services.
Neste evento irão participar 18 patrocinadores, mais de 1.000 participantes e haverá mais de 25 palestras, sessões e apresentações de tendências e desenvolvimentos do sector.
O que está reservado para o Cloud Experience 2023?
O AWS Cloud Experience 2023 Portugal está a preparar-se para ser uma montra de tecnologia de ponta. Durante o evento, os participantes terão a oportunidade de mergulhar num mundo de inovação e descoberta através de uma variedade de sessões de breakout, palestras e, claro, um tempo para networking num ambiente descontraído durante os intervalos para café, almoço e cocktails ao final do dia.
Agenda
08:00 | Início da acreditação
09:15 – 10:30 | Keynote
10:30 – 11:00 | Coffee Break
11:00 – 13:15 | Breakout Sessions
13:15 – 14:45 | Almoço
14:45 – 17:40 | Breakout Sessions
17:40 – 18:30 | Cocktail
Breakout Sessions
O programa de palestras do Cloud Experience 2023 promete alimentar os participantes com informações valiosas, que serão cruciais para o futuro do sector. Algumas das palestras mais esperadas incluem: Generative Artificial Intelligence, Data Analytics, Microservice Architectures, Migrating to the Cloud e outros tópicos para ajudá-lo a acelerar os seus negócios e a impulsionar a inovação. As apresentações com demonstrações e os workshops interativos irão ajudá-lo a obter mais conhecimento sobre os principais serviços da AWS.
knowmad mood e AWS: Esperamos vê-lo no nosso stand no.
Temos o prazer de anunciar que a knowmad mood vai participar no AWS Cloud Experience 2023 Portugal como patrocinador. A nossa equipa estará presente num dos stands, onde os participantes poderão obter informações detalhadas sobre as nossas competências, experiência e especialização no sector da tecnologia.
Com mais de 30 anos de experiência na prestação de serviços e soluções tecnológicas a clientes de todo o mundo, posicionámo-nos como líderes do sector. Estamos muito entusiasmados por partilhar a nossa visão sobre a inovação na cloud, assim como responder a quaisquer questões que os participantes possam ter sobre os nossos serviços.
Um evento para profissionais de tecnologia
O AWS Cloud Experience 2023 Portugal promete ser uma experiência enriquecedora para todos os participantes. Desde palestras inspiradoras a oportunidades de networking com líderes da indústria e empresas líderes, este evento é uma oportunidade única para ficar a par das últimas tendências e descobrir como a cloud está a moldar o futuro tecnológico.
Quer pretenda melhorar os seus conhecimentos sobre a cloud, explorar soluções inovadoras ou estabelecer contactos valiosos, o Cloud Experience 2023 Portugal é o evento ideal. Esperamos vê-lo no nosso stand e fazer parte desta emocionante imersão tecnológica na cloud!